I'm sure most of you if not all of you have heard of Focus Factor. It has been around for quite a while now and was one of the first things that got me into Nootropics, and learning more about supplements to help improve memory and concentration.
Focus Factor is labeled as "America's #1 Brain Health Supplement". Now that is a pretty big claim it may be because it is simply the most marketed and advertised. To this day, I still think have ads on the radio. It has even shown up in some big chain department stores(Kmart). But does it live up to the hype.
It has something like 40 different ingredients in it.
The list of ingredients is as follows:
Vitamin A
Vitamin C
Vitamin D
Vitamin E
Thiamin
Riboflavin
Niacin (B3)
Vitamin B6
Vitamin B12
Folate
Biotin
Panthothenic Acid
Calcium
Iron
Iodine
Magnesium
Zinc
Selenium
Copper
Manganese
Chromium
Molybdenum
Potassium
And their "proprietary blend" includes some things like:
DMAE
L-Glutamine
Bacopa monnieri extract
Grape Seed Extract
This is just a sample of all of the stuff in Focus Factor. For the complete list click on the image below to enlarge.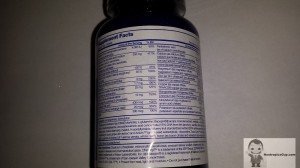 Focus Factor comes in "tablets" and not capsules. Swallowing these pills was not an issue for me but for some it may be. Let's hope not because the serving size is a minium of 4 pills a day, or as much a 8 tablets a day depending on factors like body weight, stress level, diet, and activity level.
Results
After taking these tablets till they were all (doesn't take to long, if you taking 8 tablets a day), I will say that I didn't know much of a difference in any category(if any). During my time taking Focus Factor, I kind of felt like was I just taking a "fancy" multivitamin.
You can be the judge for yourself. The company does giveaway free bottles to get you to try it(you just pay shipping). But I will warn you now, this is one of those setups where they will take your credit card number and just bill you for the shipping. However, in 30 days or whatever it is they will automatically ship you another bottle and charge your card. You will need to contact them and have them stop sending/charging you. I hate companies that pull this scheme. It's usually a pain in the butt to cancel too. In fact, if you dig a little deeper there is complaints all over online about this. So you've been warned. Because of the aforementioned, I will not include a link back to their website, but I'm if you really want to find their website you can.